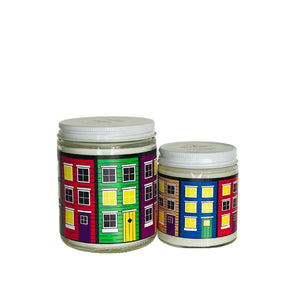 Foggy Island
8 oz Jellybean Lane Candles
Regular price
$26.00
$0.00
Unit price
per
Light up your home with Jellybean Lane Candles! These colourful 8 oz candles feature iconic Jellybean Row houses, each with its own unique, reminiscent scent. Get ready for a dreamy aroma to float throughout your home – no 'bean' left behind!
8 oz - Burn Time 50 Hours

 Mudder's Cherry Cake - Remember how great the house would smell when your mom would bake cherry cake? Well with this candle you'd swear she was right there in your kitchen baking one for you! This combination of sweet cake bursting with sweet cherries is just perfection!
Saltwater Taffy - This delightful blend of berries, banana, sugar and vanilla takes you back to summer days at the beach.
Partridgeberry Squares - Partridgeberry Squares, as known as Lingonberry Squares are wonderfully delicious tart crumbly squares that smell just heavenly. The perfect combination of sweetness with tart berries and just a hint of cinnamon make that candle a favourite.
Blueberry Crisp - This candle was inspired by a little historic town in Newfoundland called Brigus that's famous for its Blueberry Festival, colourful houses and Blueberry Crisp dessert. This candle shares with you the aroma of that famous desert with its mouth-watering blueberries nestled under a thick crust of oats, cinnamon and sugar.
Homemade Bread - Just like Nan used to make! Can you smell it? Warm fresh bread with thick buttery crusts straight from the oven! A favourite among everyone!  A Best Seller!
Bakeapple Jam - This candle is based on one of Newfoundland's most cherished wild berries. Internationally known as the cloudberry. Mellow, honey/apricot like in flavour, it makes the best jam! Of course, we had to make a candle that smells just like it!
Crap Apple - Juicy fresh picked wild apples.
Pineapple Pop - Sweet pineapple scent just like the famous pineapple soda we all know and love.
---
Share this Product
---